This function allows you to define how you would like your tickets to be generated. Configuring the parameters is only possible in the Pro Edition.
Under the "Parameters" tab, select the number of Main Balls to be generated for each ticket. The default value is the number of Main Balls drawn in the game.
Decide on the generation algorithm to use, either randomly or using an abbreviated wheel.
Select if you would like to include the Bonus Ball in your generated tickets and if so, to add the Bonus Ball randomly or sequentially based on your selected Bonus Balls. This option is only applicable if there are Bonus Ball(s) drawn and the Bonus Balls are not using the same set of balls as the Main Balls.
The "Select Main Balls", "Select Bonus Balls", "Select Key Balls" and the "Filters" tabs show the same selections that you have made from the "Analyze & Recommend" window. These tabs allow you to review and change your selected pool balls and filters if desired.
If you would like to use an abbreviated wheel, you need to select the total number of lottery balls to wheel, which must be the same as the number of Main Balls that you have selected.
For example, if you have selected 33 balls to play under the "Select Main Balls" tab as shown below: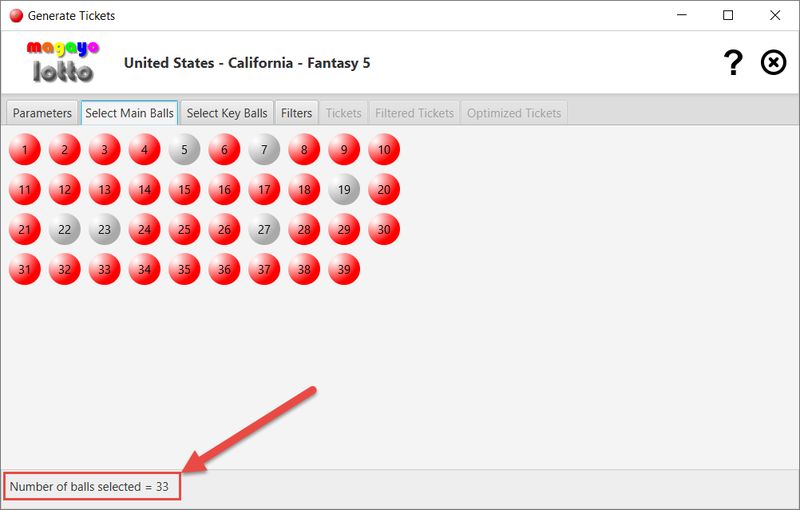 You must select "33" for the "Total number of balls in wheel":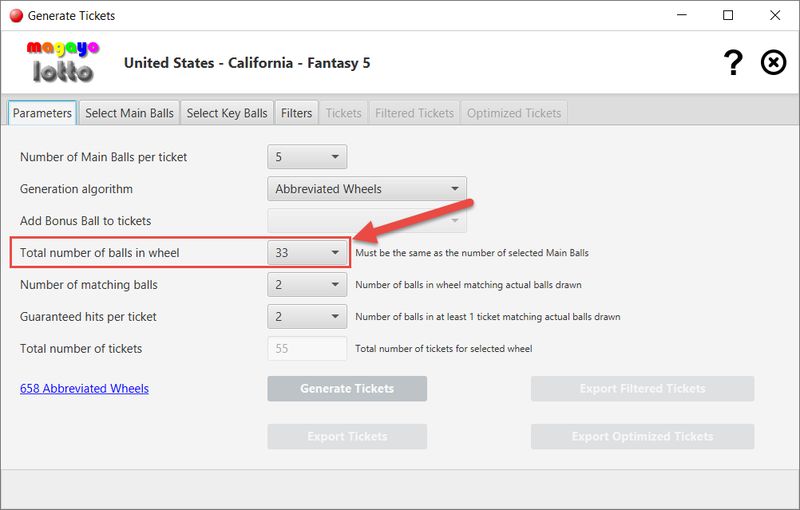 You also need to specify the number of balls in the wheel that needs to match the actual numbers drawn and the guaranteed number of balls that you would like to have. The total number of tickets or combinations to play based on the selected wheel is shown and this is derived mathematically.
When the number of matching balls in the wheel is satisfied in the draw results, you will be guaranteed to have at least 1 combination or ticket generated by the wheel in which the guaranteed number of balls matches the actual numbers drawn.
This win guarantee is not valid if you play the filtered tickets because the filtered tickets are only a subset of all the tickets generated by the selected wheel.
You can refer to our lottery wheels page to understand how an abbreviated wheel works.
Click the "Generate Tickets" button to generate your tickets.
You can export the tickets to a text file by clicking on the "Export Tickets" button, "Export Filtered Tickets" and/or "Export Optimized Tickets" button.
No filters will be applied and generated tickets cannot be exported in the Free Version.