Sri Lanka Development Lotteries Board (DLB) Lottery Results
Development Lotteries Board (DLB) Lottery Results
Latest Ada Kotipathi results
Mar 17, 2020 (Tue)


English Letter: J
Latest Development Fortune results
Mar 13, 2020 (Fri)


Fate Number 

English Letter: M
Latest Jayoda results
Mar 17, 2020 (Tue)


English Letter: E
Latest Kotipathi Kapruka results
Mar 17, 2020 (Tue)


English Letter: N
Latest Saturday Fortune results
Oct 28, 2019 (Mon)


Bonus 

English Letter: X
Latest Super Ball results
Mar 16, 2020 (Mon)


English Letter: I
Development Lotteries Board Software with Historical Results
See the historical Development Lotteries Board results in magayo Lotto software and play intelligently!
Lottery Jackpot Winner
"I played the recommendation... and I won the first prize!"
See the winning lottery tickets of magayo Lotto users!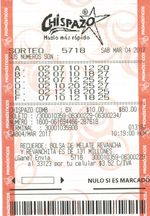 Get Sri Lanka Development Lotteries Board (DLB) lottery results with a single click in magayo Lotto software!